Option 1
Receive a CFD in exchange for a BNB through the CFD Team DAO management application:
1

First, you must have Metamask ↗ software wallet installed on your browser or mobile device. Metamask also needs to be set up to work with the Binance Smart Chain (BSC) blockchain network BEP-20 standard. Go to the detailed instructions ↗.

2

Open the client application to work with CFD Team DAO. To do this, go to https://app.xdao.app/#/dacprofile/0x82C8F7E22e3989821b6e8E8Fb3CC66C727C5d79A ↗.

3

In the upper right corner of the xDAO website, click the «Connect Wallet» button to connect an account from a wallet in the BEP-20 blockchain standard of the Binance Smart Chain (BSC) network.

4

Important, be sure to check the address of the smart contract to which the assets will be transferred.

5

On the xDAO website, click the «Add to Metamask» button so that you have a CFDD token in your list of assets.

6

On the xDAO website, in the «Amount» field, enter the number of CFDD tokens you intend to exchange for BNB at the current rate.

7

Click on the «Buy» button.

8

Sign transactions using the wallet Metamask ↗.

9

After a short time, check the balance of the CFD asset in your Wallet Metamask ↗.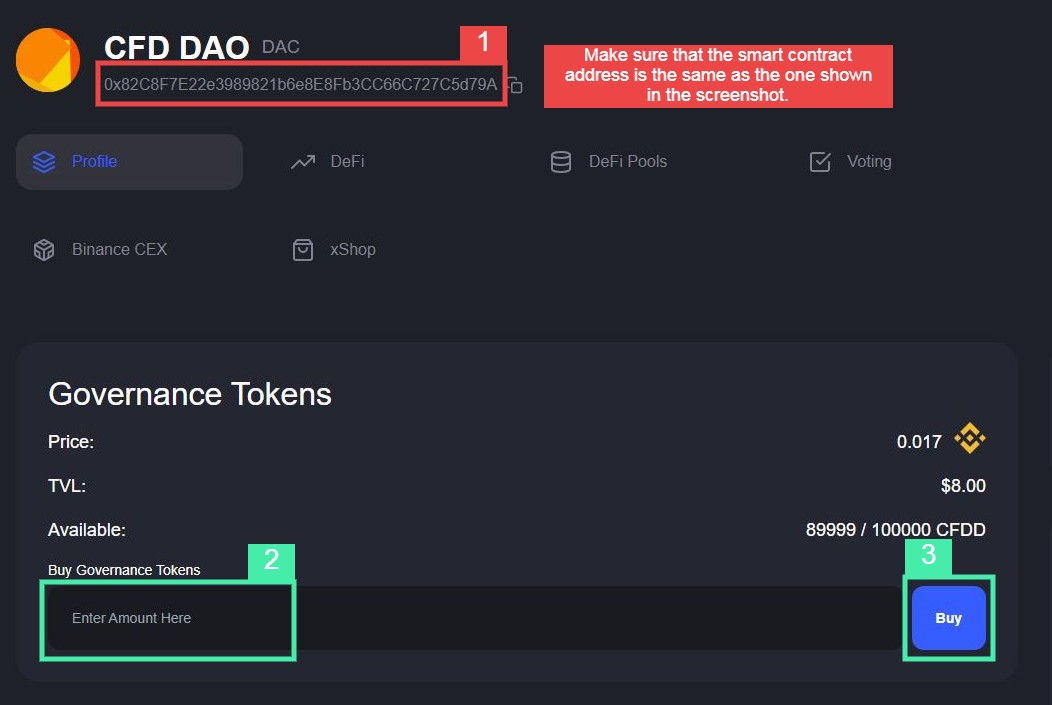 Useful Information